Dental
Delta Dental PPO Option (Indemnity)
Click here for Delta DentalCare USA Plan
 Under this option, you can receive services from a PPO Dentist or the dentist of your choice. PPO Dentists will file claims on your behalf and have agreed to charge no more than the predetermined PPO fee schedule. You may be required to pay up-front costs and file a claim form if you use a non-Delta Dental dentist.
The Delta Dental PPO Option Plan allows each person covered under the plan to have the freedom to visit any dentist. There may be a savings advantage to receiving care from a PPO Dentist because your out-of-pocket costs tend to be lower than visiting a non-Delta Dental dentist.
When you visit a PPO Dentist, payment is based on the PPO fee schedule. The PPO Dentist has agreed to accept this fee as the approved amount. Although you are responsible for deductibles, coinsurances and any expenses above the maximum, a PPO Dentist cannot bill you for any covered charges above the approved amount.
In addition to PPO Dentists, Delta Dental has Participating Delta Dental Premier Dentists. PPO dental providers provide the most savings. Although you are responsible for deductibles, coinsurances and any expenses above the maximum, Premier dentists have an agreement with Delta Dental not to charge you more than the approved amount. In Florida, the Delta Dental PPO is underwritten and administered by Delta Dental Insurance Company.
Lasik and Hearing Discounts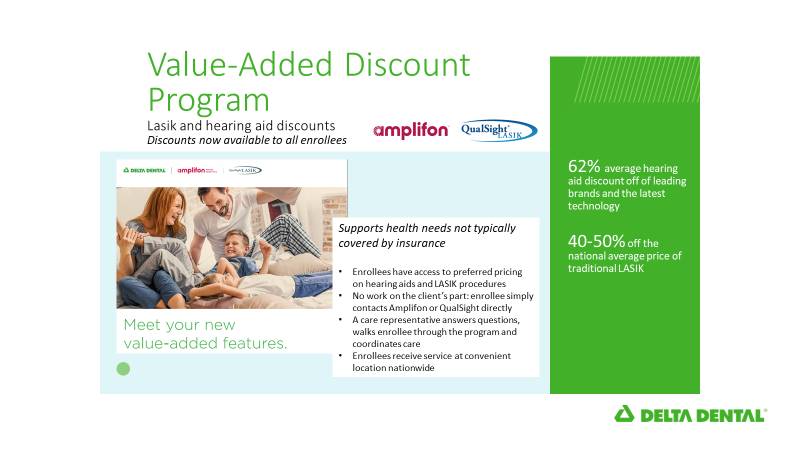 For more information regarding Hearing Aid discounts, contact Amplifon directly at 1-833-467-0058.
For more information regarding Lasik discounts, contact QualSight directly at 1-855-800-2020.
Delta Dental Plans: Rate Comparison Chart
| RATES | DELTACARE USA | | DELTA DENTAL PPO | |
| --- | --- | --- | --- | --- |
| | 20 PAY | 24 PAY | 20 PAY | 24 PAY |
| Employee* | $12.92 | $10.77 | $23.64 | $19.70 |
| Employee + One* | $21.64 | $18.03 | $47.22 | $39.35 |
| Employee + Family* | $31.84 | $26.53 | $62.32 | $51.93 |
| *Premiums may be deducted pretax or post-tax. | | | | |
Important Notice
Limitations & Exclusions
All benefits are subject to limitations and exclusions and governing administrative policies of the plan. The dental health plan contract must be consulted to determine the exact terms and conditions of coverage. An Evidence of Coverage will be sent to you upon enrollment.
Family Coverage
These plans cover:
Your spouse
Your dependent children to the end of the month they reach age 26.
Disabled dependent children are covered as long as disability remains total. A physician's statement will be required.
Get the App
Access your insurance and the tools to help you use it anytime, anywhere with the mobile app.


Delta Dental Plan Benefit Comparison Chart
You have a Calendar Year plan and these benefits are for a Calendar Year, which is January 1st through December 31st of the current Plan Year. You can locate a DeltaCare provider by calling 1-800-422-4234 or a PPO provider by calling 1-800-521-2651. You may also find a provider by using the app, or by going online at deltadentalins.com and clicking the "Find a Dentist" link on the homepage.
To help you maintain your oral health, Delta Dental offers enhanced benefits for pregnant women. This coverage includes an additional exam, cleaning or periodontal procedure as needed, once pregnancy is confirmed.
You can use the Dental Care Cost Estimator at www.deltadental.com to get an estimate on your potential procedure expenses.
You have access to a Member Online Portal.